Food Fix: Ancient Nourishment
for Modern Hungers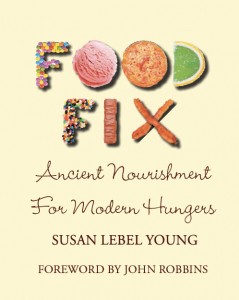 A new book that helps you find peace with food, body, weight and body image by teaching you a new relationship with food
Have you wondered how to stop your emotional over-eating?
Do you think you have eating disorder symptoms, but don't know just what an eating disorder is?
Or have you heard of binge eating disorder and wondered if what you are doing is binge eating?
If you are still hungry for these answers after all these years, still seeking a way to feel fulfilled rather than only filled up, then Food Fix: Ancient Nourishment for Modern Hungers will be a relief.
Food Fix is different. Food Fix invites you to try easier, to soften into your strengths, to heal your relationship to self-nourishment. It teaches you how to be mindful and how to be heartful.
What are You Really Hungry for?
There are at least two things I know for sure after decades of suffering with food, body, weight, body image:
physical food is not the only nourishment we need to thrive, and
beating yourself up because you abuse food is not the answer.
It is in every one of us to know what we really hunger for. To come to know true nourishment is simple, maybe not easy, but doable no matter how "damaged" we think we are.
Step by step, I join you, walk with you, take you by the hand and teach you how to seek the wisdom in your heart—heartfulness—to trust it, to believe in yourself, and to help you get to know your true hungers rather than responding with habitual emotional eating.
I wrote Food Fix: Ancient Nourishment for Modern Hungers because I needed it. I wrote Food Fix because there was nothing else like it available to me. There are many books on how plant-based nutrition helps with weight loss and health. There are many books about how whole food, plant-based nutrition helps the planet. There are many books on mindful eating. There are many books about healing disordered, chaotic, frenzied eating.
Discover a New Relationship with Food
Food Fix is the first book to address all of it. It lays out antidotes, exercises, practices so that you find peace with food, body, weight and body image by —gently and over time —learning new ways to think about and be with food until it becomes not only what you do but part of who you are.