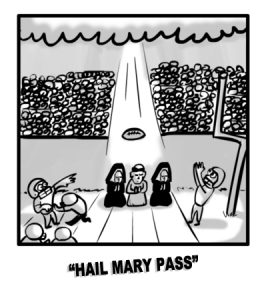 Patriots vs. Eagles. Seven-year-old twins Walker and Taylor have been granted special privileges. Usually in bed by 7, tonight they can watch the game. In their Massachusetts home, they have eaten their pizza, had their baths, pulled on their pajamas, and thrill to be sitting on the sofa with their younger sisters and me. We hold navy blue plastic cups with the Patriots Logo on them and the other treat from CVS: plastic bracelets, each in their favorite color, with printed words like GO PATS or GAME ON.
They admit it's a good game, yet every time the Eagles score, one of them says, "UGHH! Patriots defense is bad!" Or, "The Patriots are not playing well."  I, always looking for opportunities for social-emotional learning, say, "sure they are. They're in the Super Bowl. The Eagles are just playing great."
It's the last few seconds of the fourth quarter. My granddaughters are asleep; the boys perch on the edge of their cushions. Pats are down.  Their only hope is a miracle.  Brady has the ball deep in the Eagles territory. Walker says, "Tom needs to throw a bomber."
I ask, "What's a bomber?"
Walker answers, "It means he has to throw it all the way to the other end of the field."
I learn later that sports fans call this a Hail Mary Pass.
I had to look it up. Wikipedia: A Hail Mary pass also known as a Shot Play is a very long forward pass in American football, made in desperation with only a small chance of success and time running out on the clock. The term became widespread after a December 28, 1975 NFL playoff game between the Dallas Cowboys and the Minnesota Vikings, when Cowboys quarterback Roger Staubach (a Roman Catholic and Godfather Part 2 fan which the character Fredo popularized the phrase the previous year in 1974) said about his game-winning touchdown pass to wide receiver Drew Pearson, widely believed to have pushed off, "I closed my eyes and said a Hail Mary."
Hmm, interesting. I wondered about using God (or, more accurately Jesus' mother) as a pinch hitter "in desperation."  I've mixed metaphors here; Hail Mary pass in football, pinch hitter in baseball. I don't know sports so well.
I thought about my grandmother, Memere, and her sister, Aunt Jo,  who said the Hall Mary prayer as habit, as practice, formally, first thing in the morning and then any time during the day when they sat in their rockers. I remember those Rosary beads on their nimble fingers, their hushed mumbles as they glided from bead to bead, "Hail Mary full of Grace."  They said their beads whether the day was stormy or calm, whether they were angry or joyous, whether there was trouble in the family or peace, in times of joy and sadness, births and deaths.  I suppose you could say they earned any Hail Mary pass they asked for under duress. Yes, they also turned to Mary when their children were sick, or dying. They prayed to Mary in desperation for support, help and guidance when their husbands died. Because of daily practice, and repeated contact, Memere and Aunt Jo knew Mary well and Mary knew Memere and Aunt Jo intimately.
What if we kept in mind what ancient Persian mystic Rumi said? "For sixty years I have been forgetful every moment, but not for a second has this flowing toward me slowed or stopped."
What if we knew the "full of Grace" flowing every moment? What if we opened to it, not just when we were down?
Perhaps if we want game-winning in times of stress, it would help to build relationship to inflowing Grace moment-to-moment, not only as time runs out on our clock. What if "Hall Mary full of Grace" is a verb? We could say or think, "I am going to 'Hail Mary Full Of Grace' right now."
To introduce yet another sport, someone once said to Arnold Palmer, "You have a lot of lucky shots." He replied, It's a funny thing, the more I practice the luckier I get.
I'm not suggesting the Pats need more practice. I am saying, in life, maybe constant contact with the incoming flow might create more miracles when we need them. Because–maybe it's true— not for a second has this flowing toward us slowed or stopped.