PORTLAND PRESS HERALD MARCH  2013 – ALREADY BROKEN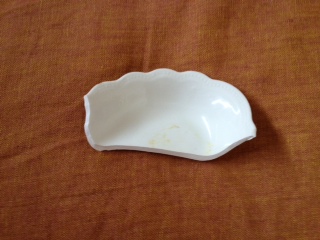 I don't know why I'm saving it. I throw away pretty much anything unused after awhile. People tease me about how often I take the short drive to the transfer station to recycle rather than wait for Friday trash pick-up at the end of my driveway. Friends note my clutter-clearing habit and call it an obsession. Maybe addiction is the word they use.
No, I don't know why I've kept one-third of a white porcelain dish my grandmother gave me. She said, "You like antiques. You should have this. You can put candy in it."
I don't actually like too many antiques. There was really no "should" about my having it over my six siblings or fourteen first cousins, and I knew when she gave it to me that I'd use it as a soap dish. It was shallow and just the right size for the sink top. I loved the scalloped edge, rinsed it often to clean away soap scum. No doubt another addiction.
Then, one day, twenty years or so after my Memere gave me this present worth maybe two dollars, it crashed onto the hard tile bathroom floor and shattered.
That was two years ago. Today I sit here, the only chipped part I saved now beside my pen and paper. It still has yellow stains on it. I am trying to remember what I felt the day it dropped.
Not anger. I am only mad when I think things should go my way, To learn to let go of holding on too tightly to anything impermanent, and as a way not to grasp at what inevitably changes, years ago I had adopted a mantra that some Buddhists recite for just such circumstances, "It's already broken."
Already-broken practice is like "this too shall pass."  We start when we receive a precious anything. We start to say, even when it's brand new, "It's already broken." Already-broken practice has shown me the truth that all things have a beginning and an end, whether I like it or not. When I really understand that there's no guarantee that I'll have my way, when I get that "stuff happens," I have no anger.
Not fear. With "it's already broken," I'm not scared as in, "What if it breaks?" I know it will one day be no more. Already- broken practice helps me cling less, and reminds me that all things eventually change. Already-broken practice helps me have more acceptance of life, people and things as they grow or transform. Already-broken teaches me to go with the flow of life's comings and goings more easily.
Not grief. With already-broken practice, I was not sad when my dish smashed, especially knowing—or remembering—that the dish wasn't really "mine."  I was its steward for a few years, enjoying it for its short lifespan.
No anger. No fear. No sadness. So why did I keep this piece? Maybe because I don't see it as a "piece" at all. I see the whole dish when I look at this fractured section of it. I see my 101-year-old grandmother. I hear her age-old and old-age advice to me: "Sue, you need to quiet down, slow down, worry less. You need more patience. When you get to be my age, what you think are your troubles now will no longer seem like troubles. You'll see the big picture."
That's why I keep the damaged gift. It has a resonance. It has lessons for me, echoes of the already-broken, shattered-and-still-whole voices from the past. This small thing tells me I have a big-picture choice about how to perceive people and events.
When I don't hear the call of the ancients in Memere's dish any more, maybe then I can pile this sentimental object into the car on one of my trips to the transfer station. Until then, I am seeing it whole and hearing in it Memere's messages.
Susan Lebel Young, MSEd, MSC, retired psychotherapist. Her new book is Food Fix: Ancient Nourishment for Modern Hungers. Email: susan@susanlebelyoung.com.  FMI: www.heartnourishment.com