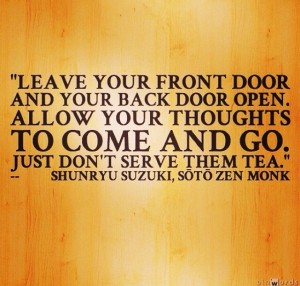 Recently my son Zac's boyfriend Andy sent me a quote from Shunryu Suzuki, a Zen monk: "Leave your front door and your back door open. Allow your thoughts to come and go. Just don't serve them tea."
Soon after, 31-year-old Zac called to say his 19-year-old friend and employee, Danny, had a freak accident and died. Zac sobbed, this his first-ever brush with tragedy. We talked of its unfairness.
Later Zac texted, "I'm doing ok. I think of it when I'm at work and people ask me for details on Danny. It's really hard. What's important is that a fellow employee Tracy and I are going to the funeral. Who knows what we can say to his family other than we loved him and he LOVED them? So so so much."
How do we open the back door to let thoughts go? They tend to move in, take up space. Why Danny? Why now? How could this be? What really happened? Tossing and turning, I wanted to text Andy my own Zen-like advice: "Don't serve your thoughts tea and don't ask them to spend the night." Fearful thoughts make scary bedfellows.
At 11 p.m. I had crawled under the covers with monkey mind, the thousands-year-old term for our brains that jump from thought to thought. I couldn't sleep, got out of bed, booted up my PC and saw Zac's Facebook posting: "Rest in peace, Danny. You were bright, funny, and very charming. You continually made my day when I saw your mostly devilish grin. I can't really express my sadness right now. It's not because you were young and had so much more living to do but because the world will no longer be blessed with your presence."
I paced, turned off the air conditioner, took out my mouth guard, ate a banana, sipped water and smeared Wise Ways All Heal Calendula Salve on a wound. Then I stopped all the bustle. I sat in stillness and reread Zac's words. In my dark silence and in his grief I felt love.
I wondered if psychiatrist Gerald Jampolsky was right more than thirty years ago when he wrote that love is letting go of fear. How do we do that? At 4:30 a.m. I tried a simple practice. I exhaled fear. Then I breathed love into my newly cleared heartspace. Over and over. Fear out the back door; love in the front. Breathing out fear. Breathing in love. Again and again.
By 5:30, I felt both Zac's specific agony and the general ache of being alive. I felt Zac's pain as our pain, "the" pain, unavoidable. I also felt the truth that for all of us there's no all-heal salve for life's wounds, no calendula for our inevitable human suffering, Except maybe love. So I kept breathing. Fear out the back. Love in the front. Fear out. Love in.
A few days later, Zac wrote, "Just left Danny's funeral. What do you say to a mother you have never met? She's basically my age, a few years older. I knelt at the casket. I said my prayer. Hugged her and told her how much Danny loved her and how proud of her he was. She just held me and said, 'He was my baby. He was my baby.' Over and over. Really really tough stuff. I'm meditating on this: Perhaps it's not about the quantity of life but the quality. Every day I knew Danny, he lived life full out. Heart full of joy and love. There was never an ounce of doubt, anger, fear or any of the ugly things in humanity. Maybe it was just too much for this world. He fulfilled his earthly duties and perhaps is more needed in the spiritual realm. I will view him as my angel."
As Zac meditates on joy and love, I want not to shut out life's births and deaths, gains and losses, pleasures and pains, joys and sorrows. Who knows how to keep the doors of thoughts and feelings open? Perhaps only through love, so so so much love.