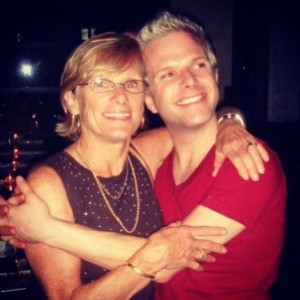 As my birthday neared, I relapsed into, "I look way too old.".  Lured into the "wrinkle-free" aisles, I sampled twelve Age-Defying Lifting Face Creams.
Spiritual teacher Ram Dass wrote: "I remembered this ad for Porcelana hand cream which said, 'They call these aging spots. I call them ugly.'  Another way to look at it is, 'They call these aging spots.' And here we are."
Forgetting "here we are", last week I used Rice and Wheat Volumizing Shampoo.  For twenty-five minutes of soul-wasting and spirit-distracting self-absorption, I then squirted Styling Foam with Honey over my palms, flipped my thinning hair upside down, and jujhed my hair dry. My 32-year-old son Zac calls these primping aids, "products." I do not use "products." unless, of course, my mind clutches around thinning hair and skin.
Then on my birthday, Zac posted a Facebook picture. In it, his arms wrap around a high-heeled me as he lifts  me  across a puddle in NYC a few years ago.  His natural brunette head shines platinum and his hair stands pouffed to a peak. He wrote:  "Happy birthday to my amazing mother who has loved me unconditionally despite my various hair 'phases.'"
I clicked "like" and commented, "Thanks to the boy who taught me how to love unconditionally."
I wanted to write, "Zac you have no idea how many phases you honored me to love you through."  I meant to say, "You have reminded me again about unconditional love as compass, as a way to orient ourselves, as a North Star.  Do you recall at age 13, when you wanted to dye your gorgeous brown hair? I said, 'you have to choose a color that hair really grows. No purple. No fuscia.'
You said, 'ok.'
I said, 'You have to let a professional do it. No over the counter do it yourself jobs.'
You said, 'Ma, what's the big deal?'
We made an appointment at Hair Care down the street.  We agreed on red.
You pranced through the door two hours later flaunting Raggedy Ann orange. I grounded myself with a deep inhale. I exhaled a silent mantra, 'Susan, pick your battles.'
With your flaming new do, you taught me to love your creativity, your chutzpah, your young soul reaching for yourself, your Self. I learned to choose love and acceptance over judgment.
Beyond hair: Do you remember when you refused to learn that Spanish poem, the only requirement left between you and eighth grade graduation?  You knew the story of it; 'that's enough,' you insisted. I had no brilliant parenting strategy, so I consulted Harvard educator, Howard Gardner, who described  your storytelling intelligence:  'wit; mischievousness; obstinacy; an apparent lack of mental focus; a fondness for daydreaming, a lack of proper respect; a strange admixture of shameless playfulness and embarrassing earnestness…'  With every shower you took, you belted out the lyrics to  'I Am What I Am.'  I heard you. You taught me to choose love over anger."
I wanted to post: "Zac, remember that  midnight distressing phone call from college, your voice cracking, barely audible, your breath panting?  I asked you, 'Are you safe and could I PLEASE talk to your friends with you?'  My heart ached and pounded, my eyes filled with tears.  I cried out all I could say: 'who are you and who do you want to be? Dad and I are coming .'  Our whole ride, I repeated,  'kids need love the most when they seem to deserve it the least.'  You taught me that night to choose love over fear.
In The Soul's Code: In Search of Character and Calling, James Hillman wrote:  'you find your genius by looking in the mirror of your life. Your image shows your inner truth, so when you're estimating others, what you see is what you get. It therefore becomes critically important to see generously, or you will get only what you see; to see sharply, so that you discern the mix of traits rather than a generalized lump…."
Zac, your genius taught me to look in the mirror differently. I came to see in both of us a mix of our common traits: spark, boundless energy, spirit.  No products exist to help us go "pouf" in a grand moment of  acceptance of people– lumps and all–or for how to jujh the miracle of unconditional love.  But you taught me how to see generously. On my birthday I thank you for all those lessons  and chances to grow in love…  And now here we are. Here we are."
How my son taught me to choose love is what I wanted to post.