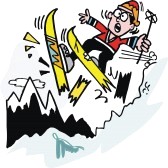 My body feels full and dull. Fatigued, tired even behind the eyes. Fog. Heavy. Jeans tighter than they are in jaunty summer. No charge, no juice, sluggish. As a mammal, I yearn to hibernate.
I miss the coming-alive of spring and summer, or maybe I miss youth. Maybe I miss the illusion of never-ending energy, the sense of unlimited aliveness.
In my twenties I dreamed I'd downhill ski in the Olympics, except for the fact that I could never turn exactly at the required gates. No matter. I pulled up my pale pink puffy snow pants and hit the slopes with my best friend Gay in her bright yellow ones. To power us down the Snow Bowl, we packed Toblerone Bars in the pockets of our matching navy blue parkas.
We fancied ourselves as hot skiers in those cold Vermont winters. No hibernating then. I don't miss the sugar highs and lows of our multiple candy bars. I used to miss the self-image of "hot shot."
Riding together up the chair lift —I, an instructor, she a racer— we commented on the form of skiers below. "Look at that guy. Not stopping once. Tucking all the way down. Ugh." Or, "Look at her. Leaning into the hill. Not good."
One Saturday as I taught ski school to novice teenagers, and Gay finished her slalom course, she spotted me stopped on the slope with my students gathered around. She joined us just in time for me to say to her, "Look uphill. Here comes my brother. He really is hot. Watch him."
I turned to the huddled beginners. "Here comes a beautiful, graceful skier. Notice how he handles the turns, plants his pole and eases his skis around the pole plant, then unweights, lifts and lets his hips glide effortlessly from side to side. Let's observe him so we can implant that perfect picture in our minds."
He saw us see him, took a little air on his next mogul, showed off just the teeniest bit for Gay, my class and me. As he sprayed us with a whooshing shower of powder, he caught an edge and plowed into us. His skis flew off his bindings. He wiped out two of my students, and they all landed together in a big white pile of mixed up arms and legs. We called these big falls "yard sales" because skis, poles, goggles, and hats always landed spread across the slope.
I want to giggle again as we did that afternoon. I don't frolic so much any more in the crisp air under azure skies and roll in the glistening snow with gales of laughter at the ironies of life. They humble me though. These days, I don't call myself hot or anyone else hot, for that matter.
After a yard sale smashup, we'd suffer the indignity of having to walk half a mile picking up our strewn stuff. Then we'd have to crunch our way downhill in our boots, carrying our equipment, as our tracks broke through the crust while everyone on the chair lift watched and we imagined them critiquing us, "Look at her. Flew out of control. Skiing faster than her skill level. Recipe for disaster. Not cool."
It's hard to feel like a hot shot when you've made a fool of yourself and face-planted in full view.
We must be blessed as human beings because, up and down the icy bumps of time and in life's edgy places, we do learn. When I asked my brother if he saw a spiritual lesson in all these crashes, he said, "Slow down, idiot."
Finally, in the deep of this winter, I laughed, a coming-out-of-hibernation guffaw. Yes, of course, all spiritual traditions ask us to slow down. Maybe William Shakespeare said it best: "Wisely, and slow. They stumble that run fast."
And the idiot part? Luckily, Spirit lets us stumble a few years and then helps us to mature more wisely. And that's very cool.