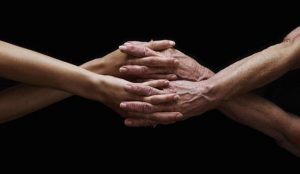 The good you do today will be forgotten tomorrow.  Do good anyway.
Kent M. Keith (seen on the walls of Mother Theresa's children's home in Calcutta)
Do you ever do something, anything, that seems the "right thing to do" even though maybe no one notices and no one seems to care? Does it feel that something compels you to keep doing it, though you don't know why? Something in you says, "do it anyway."
Me too. Something about connecting for the sake of connecting even when the other doesn't seem to connect. I have a 90-year-old friend,  call him Al, in the end stages of Alzheimer's disease.  Al has always known me. He was playing Bridge with my parents the night my Dad rushed my Mom in our old Chevy wagon to Westbrook Hospital to give birth to me.  In later years he'd say, "chubby is cute" when most people called me fat. He helped me study Hebrew when I converted from my native Catholicism, even though Al never missed Mass. He joked with my Dad that he wanted to walk me down the aisle at my Jewish wedding.
Al's 12-year decline has been slow, steady, tedious. Only recently has he lost his most of his words. His speech is minimal, staccato.  He loses his place in a sentence.  "No! NO! NO!" he screamed yesterday as I brought him the Press Herald that he's read daily for decades.
I knew, until now, that my showing up mattered to Al. He beamed when I entered his room at the nursing home. It mattered to me, too, not only to fulfill the commandment to "visit the sick." But also for me, for that inner felt sense of peace in doing what's right. And beyond Al and me, the words of Pearl S. Buck ring true: "Our society must make it right and possible for old people not to fear the young or be deserted by them, for the test of a civilization is the way that it cares for its helpless members."
Perhaps one person's simple visit to one other person says something about our world, helps in both immeasurable and measurable ways, and adds a tiny bit of kindness. Years ago as I trained in Pastoral Care under Reverend Alex Cairns' supervision, Alex said, "These small acts of doing good can feel like a drop in the bucket. But it's a drop in the right bucket."
So I visit Al. He no longer knows my name.  He smiles when I enter, frowns when I say, "I have to go now."
Then he manages to ask, "why?"
I say, "I'm going to see my husband."
Al scrunches his eyes and shrugs his shoulders, "Husband?"
I nod, "Jonathan, my husband."
Al shakes his head. Husband and Jonathan no longer have a place to land in his brain.
One  day I spotted Al's only tube of mangled and empty toothpaste, covered with drool and dribble. I left him for a quick trip to CVS, bought some Colgate with Baking Soda and Peroxide  and brought it back to him half an hour later. He said, "I haven't seen you in such a long time." I pumped the Colgate onto his toothbrush and handed it to him. He stood immobile, leaned against the sink to prop himself up, stared in the splattered mirror, looked back at me, held out his toothbrush-holding hand and asked, "What is this?"
In the face of our feeling helpless in the helplessness of others, the question seems normal, "why bother?"
To me the answer is, "because it matters." It matters to what is left in Al, how he can hug, smile and say, "thank you" when I wipe his chin. It matters because that occasional twinkle behind his usually glassed-over eyes tells me his spirit is alive, his soul is well.
It matters to me, —not as a friend accused, "because of messages of Catholic duty or Jewish guilt"—but because I know that human hearts beat stronger alongside other human hearts, especially next to those hearts who need a little extra love, or a lot of extra love.
Reverend Alex also said this work of "bothering" in small ways is like laying one teeny brick in a huge human edifice. Yet without each brick that socio-cultural building would have too many holes to survive, to thrive, to hold up.
Finally and maybe most importantly, our tiny acts of service matter to civilization. When there is little hope and lots of loss, it matters that we do good anyway.