I am happy to support local book stores and Bookshop which also supports local bookstores and is now selling Grandkids as Gurus. Have a look at what Bookshop just sent out. Enjoy!!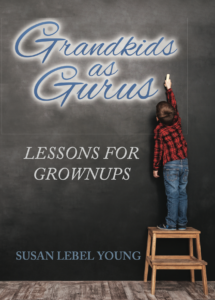 Grandkids as Gurus: Lessons for Grownups by Susan Lebel Young
I thought I knew. Oldest of seven children with a whole lot of babysitting under my belt, mother of two active children, elementary school teacher, therapist, holding Master's degrees in both Education and Mental Health Counseling. I could be a deep and wise elder for my grandchildren…

But when they arrived: Little precious packages with their own wisdom, agenda and trajectory for growth, I sat in awe and complete unknowing of what to do, what to say, how to be a grandparent.
When I sat in my heart and not in adult brain, I let them teach. Through their stories I began to see the source of their strength and, thankfully, mine. I love sharing it as Grandkids as Gurus.

Here's one more secret: this book isn't only for grandparents. It's for all of us to become open, and stay open, to the magic of children. I hope these vignettes are able to give you an ongoing sense of newness and presence, as they do for me. – Susan Lebel Young
---
"Grandkids as Gurus…invite[s] us to be more attentive, more loving, more kind. Not since Ross Gay's The Book of Delights have I read a missive that offers this much everyday hope in an increasingly bittersweet world."
—Jodi Paloni, award-winning author & creativity coach

"It takes a wise and attentive grandparent to see children's inherent wisdom, wisdom even for guiding adults. Sue Lebel Young is that singular grandparent, and the result of her careful listening and disarming insights is Grandkids as Gurus. It should prove thought-provoking for her readers of all ages."
—Peter Monro, journalist
---
About the Author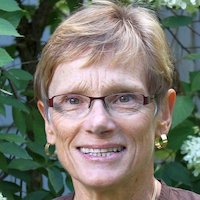 Susan Lebel Young has professionally counseled individuals, couples, and groups for over three decades. Her column, "Life Unwound," is published in a free weekly publication in Maine. Mother of two grown children and four grandchildren, Susan lives in Falmouth, Maine, with her husband. Grandkids as Gurus is her third book.
---
Bookshop.org is an online bookstore with a mission to financially support local, independent bookstores. We believe that bookstores are essential to a healthy culture and we are a benefit corporation, a company dedicated to the common good. Discover new books and learn more about how you can get involved here.
Find your local bookstore on our map.