FIRST WE STOP AND NOTICE WHAT'S AROUND US: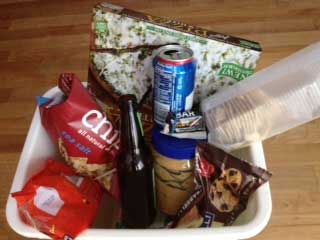 For the two weeks before big curb-side pick-up, I shuffle through the garage and kick the recyclables piling up in bulging bags. Almost tripping over crushed pizza boxes, empty cans of baked beans, and tomato sauce jars— surpluses from gotta-have-it purchases— I stare at these lifestyle leftovers.
I crave quick comfort foods. Don't we all?
WE OBSERVE:
Every Friday, I drive through my neighborhood and spot similar heaps in friends' driveways, my consumer patterns multiplied by the hundred or so homes here. Seeing nature's purples and reds deepens the contrast between the gifts of Mother Earth, and our trashing of her. My imagination expands to this town's waste, then to all of Maine, and New England…and…and….until I see a world sprawling with dumps and landfills. We throw "out". We throw "away." Yet, on this small planet, where is "out?" What is "away?"
WE CREATE AN INTENTION:
Called to do my part, I make a bold pledge. For at least one month, I will buy no more than "God's food, Adam and Eve's diet." If it grows from the ground, nourished by sun, rain and soil, I'll eat it. If not, I'll pass.
DO NOT UNDERESTIMATE THE FORCE OF HABIT:
Knowing that the reach of this trial stretches beyond my preference for ease, my David spirit is strong. But my flesh is weak against the Goliath of convenience foods, so I seek inspiration from the mystics, reading Meister Eckhart, who wrote, "God is attained not by… addition to anything in the soul, but by ..subtraction."
WE CHOOSE A SKILLFUL ACTION:
If I deduct processed food, what then do I eat? Genesis (1:29) answers: "I have given you every herb that yields seed which is on the face of all the earth, and every tree whose fruit yields seed; to you it shall be for food."
T. Colin Campbell's award-winning China Study echoes: dine on roots (like carrots), flowers (like broccoli), leaves (like lettuce), legumes (like lentils), grains (like rice), fruits, nuts and seeds. No packaging needed.
"Why would you bother to do this?" a dear one confronts me.
AWARENESS. AWARENESS. AWARENESS.
To face my greed, for starters. To transform my petty urges in service to a greater good, I suppose. For my own health. For the health of the planet. Aren't we all asked to be more aware? Eat foods in their natural state. Simple.
WE WATCH THE MIND:
Simple? Yes. Easy? No, because the mind plays tricks: I might die without my daily square of dark chocolate. It's not lunch without a peanut butter sandwich. What's wrong with bottled water? Whose dumb idea was this?
WITHOUT JUDGING OURSELVES OR ANYHTING ELSE, WE NOTICE HOW IT GOES:
In spite of myself, I succeed some, no longer stumble over the now-reduced garbage, and sail through the inner aisles of grocery stores without Wheat Thins grabbing me. I fail a lot, too, the hook of my Dove Bar addiction at times out-muscling my common sense.
STOP, TURN TO WHAT'S HAPPENING, OBSERVE AGAIN AND AGAIN, LET GO OF JUDGING:
Of course, God's fare amply fuels the body and I love my fresh salads of dark green Romaine, yellow bell peppers, home-boiled chick peas and steamed brown rice. Yet my 60 years of human yearnings often trump that simplicity. This I know: real whole food is all we need. Plants. Still, I feel the pull to grab a quick drive-through or rip into a carton of Ben and Jerry's.
Still, the impulses sometimes scream "gotta have it."
WE MAKE THE SIMPLE EFFORT ANYWAY:
Doubt plagues me. Can we really end our suffering? Can one person make a difference? Then I realize, this is a practice, an inquiry, a learning curve, perhaps steep at times. And I know I can start by making a simple effort. One step. One decision. One choice today that is even just a smidge more responsible than yesterday's.
Now I shop at farmers' markets.  One small effort.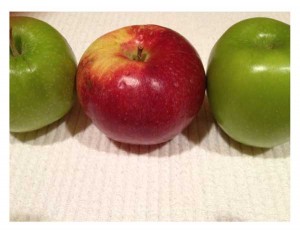 What will you do?
Please let me know in the comments because I hope Mother Earth thrives. Don't we all?