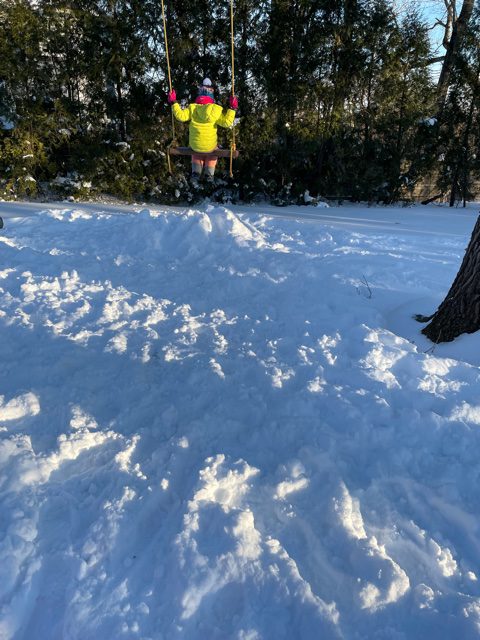 I pick up the phone on what my Florida friends say is a miserable, cold, Maine winter day. My good friend, my age, says, "I'm in the ER with my husband. He woke up with no memory of anything that happened last month. The doctors suspect a stroke."
I say, "I am so sorry. I wish I were there to be with you, to be together. How can I help?"
Seconds later, my six-year-old granddaughter tugs at my sleeves, "come on, Susu, let's build a snow fort together and a tunnel through the snowbanks."
I say, "Yes!"
The phone rings again, another good friend, also my age, says, "My husband's cancer has spread. We're at the imaging center doing PET scans and MRIs to see if it's also in his brain."
Saddened, I say, "I am so sorry. What can I do?"
I pull on long underwear, parka, hat, and mittens to join the six-year-old. We head into the slanted morning light. We move snow. We shovel. We rejoice in our challenge, "Hey, if I dig through on this side of the snowbank, and you dig through on the other, will we meet?"
I get another call from another friend, "His brain injury is taking him from me. Is taking him from our daughter, from our grandson. From me, from her, from him. The falls are more frequent."
In tears I say, "My heart is aching for you."
The six-year-old points to the collapse of the top of our tunnel and says, triumphantly, with a huge smile "Okay, this is wonky. But we are going to stick with it because we worked hard. We are pros at this."
Oh, to be six again.
One more call. I take it, wondering if I should interrupt this fun in the snow, this fun in the now. This friend says, "No surprise. He was just diagnosed with Alzheimer's." She adds, "I guess this is our stage of life right now."
Maybe it is.
The 11-year-old brother of the six-year-old yells, "Careful, look up! The boys and I are in the middle of a snowball fight. Wanna make snowballs with us?"
I look up. I see the bright white morning, beds of snow, light striking ice. I don't see nor feel miserable, cold winter. For sure, we shiver outside as my friends' insides shake with their losses. Our noses drip from the cold as my friends' noses drip from crying, from grief. Life is fully here in all of this, isn't it? Both the highs of rollicking in the snow and the lows of despairing news.
I look up again from tunnel-digging and see my nine-year-old granddaughter jump from a backyard swing into a mountain of snow she has shoveled. As a gymnast she flips a few fancy moves with pointed toes and extended fingers before she hits the soft mound. Her 11-year-old brother, her 6-year-old sister and I, this "stage of life grandmother," marvel at her flair.
Maybe being here fully for all of our moments is how we help. Maybe saying yes to all of the life which can be gone in any moment is what we can do. We all grieve with mental and physical pain, aging, illness. What if, in our brief seconds here on earth, we also laugh, play, get curious, and vow to be together in it all? As we dig through life, what if we look up every now and then? What if we rejoice when we can, and not only mourn but also celebrate? What if we let sorrow and joy co-exist?