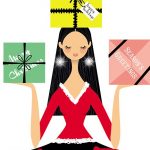 Boot-heavy, after slipping through sleet in the parking lot, we trudged into a worthy-cause fundraising yoga class. I felt glad to show up for this organization, donate to the cause, give to the greater good. Oh, let me also mention that yogis had created a casual yet heartfelt yoga "studio" in a trendy, now-closed  mall department store.  
Entering after forty others, my friend Diana and I de-booted and tiptoed to the back of the converted space. Neon letters on three leftover signs blared at us from a patched concrete wall:
1. "Refine your Search." These words— meant to sell presents—could symbolize yogic teachings, I thought. "What are you seeking? Hone your attention. Simplify."
I could make "Refine your Search" yogic.
2. "All the feels." After chuckling at the connotations and possible metaphors, I nodded, "Yoga says feel into the body, feel the body with the body, notice 'all the feels' of what's going on in and around. I can embrace 'all the feels.'"
3. "Status update." Yes. By the end of any deep yoga class, our status updates. "My body-mind will relax," I told myself, "Inhabit this moment, land here in this room, focus, and gain a full body/mind/heart upgrade."
After wheeling aside a snow-white fluffy upholstered chair and matching overstuffed ottoman, Diana and I rolled out our mats. We then sat cross-legged, hands palm-to-palm over hearts, ready to bow "hello." We faced the teacher and then, because the holiday glitz beyond sparkled, stared straight into the glistening Mall. I spotted the dizzying merry-go-round, heard its tinselly merry-go-round music and caught whiff of the aromatic Food Court. "Wow," I thought, inhaling to center myself, "Mallyoga."
I could use Mallyoga as training in contacting inner silence amid outer noise, right here with bustling bargain gift hunters, blasting refrains from Rudolph the Red-nosed Reindeer, and the wafting scent of General Tsao's Chicken. I could work the yoga of calming the mind; perfect practice since the mind itself merry-go-rounds all the time.
Wrapped in winter scarves and mittens, indoor exercisers orbited around us, pumped their arms and yakked. We "aouhmmed" to start class. The chatty Mallwalkers paid no attention to our attempts at lotus pose or our low sighing out-breaths. A janitor circled our circle with a rope mop splashing in and out of a bucket as he sloshed the tile. I smiled at the outer symbol ism as we twisted, rung out our organs and cleansed our inner beings.
We stretched, breathed, laughed, and moved from shape to shape.
In final relaxation pose, I rested on my back, eyes closed, no longer blinded by fluorescent lights on the ceiling nor the three flashing signs. I heard no chirpy din. Steeped in stillness, I lay here now.
After a seated meditation, Diana and I bowed Namaste, chanted Om, rolled up our mats, pushed aside some old display racks, and slowed our way out of yoga into major mall-quickening. We passed whip-lashing storefronts and jingly kiosks, carrying our mats to her car. On our ride home, we discussed The Bhagavad-Gita, a basic yogic text. Don't all yoginis leave class and revisit this Indian poem, a tale of the tug between the light and dark in our hearts? Diana and I do, since the Gita is an ancient Eastern wisdom guide which can teach modern Westerners to live in freedom and joy.
I'm not sure what to make of Mallyoga, other than yoga, one aim of which is to quiet us, can follow us anywhere, even in and through clamoring consumer chaos. As per the Gita, one purpose of our lives is to know who we are, distractions, seductions, push-pulls and all. After Mallyoga I did not totally understand the war within as the Gita's hero does. But I did leave mad Mall materialism knowing that every moment gifts us with a chance to practice presence.