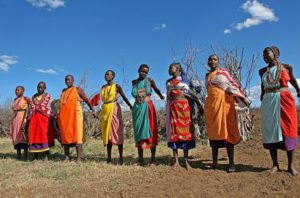 Assuming the African ethic of ubuntu, "I am because you are," bears adopting, how do we live it? Ubuntu comes from a Zulu phrase meaning that a person is a person through other people. Assuming, then, that caring for others matters, how do we teach it?
I tried with my four-year-old son and six-year-old daughter. I rummaged through messy piles on their bedroom carpets. I'd find doubles of Clifford the Big Red Dog, or never-worn slippers.
I valued the practice of giving, so I trudged through spring cleaning to teach our small children big-heartedness. I'd coax, "Before we buy anything new, we'll go through what we have. You can choose some things you don't play with or have grown out of to donate to those who have less."
"I don't want to get rid of anything," the younger would screech, clutching one of his abandoned Care Bears from a forgotten pile in the corner.
"I know. I understand and you can give something," I'd say.
I'd mine through closets and extract a never-used treasure. "Let's offer this Mr. Potato Head for some child who would love it."
"That's stupid. No one likes dumb old Mr. Potato Head."
My teachers' voices whispered to me, "We are one with all beings. Generosity matters."
Our children would eventually begin a poker-type competition. Our daughter would pop out of her room, plop on the hallway rug cradling a Cabbage Patch kid, half of its yarn-hair missing, and lay the ragged doll down. Our son would bolt into his room, reappear and counter with some surprise. He'd say, in effect, "I see your one Cabbage Patch kid and raise you three dead Sea Monkeys."
I'd ask, "Find something that is not damaged."
They'd moan, "Mom!"
Mostly our young children insisted, "We need everything, especially the fifth unopened set of Lincoln Logs. Mom, this is hard."
I'd say something like, "Yes, at first, of course."
They'd say, "This is ridiculous."
I'd say, "It might seem so. And It's good to give."
They'd roll their eyes. "Ya, we know."
With a noble sense that I had picked a worthy battle, I persisted in coaxing their budding kindness. We washed dusty sock puppets and glued broken Legos they wanted to keep. For the dump, we filled garbage bags with trash and discarded stuff long beyond repair like a ripped copy of Good Night Moon. Then we'd load our green Jeep with what they had agreed to donate. As we drove, the younger one screamed, "I hate this". (They'd been taught to express feelings).
I'd say, "This is important. Thank you for doing this as a family."
After weeks of effort, a moment of unplanned transformation blossomed each spring as these two smiling cherubs carried their offerings to the waiting arms of sweet recipients in shelters or on the streets. These children hugged mine. All had tears, cheers and giggles. After delivery and a tiny peek into someone's else's life, we'd smile and jump into each other's arms as we hopped back into our now-empty transport vehicle. And, every year, they'd say, "That was so fun. Let's spring-clean again next year."
And now? As adults, they live with the spirit of ubuntu, donating time, money, and involving themselves in non-profits. How do we learn? Maybe adults pass the generational torch of ubuntu with patience, by staying steady to the truth of "I am who I am because we are who we are. I am because you are."