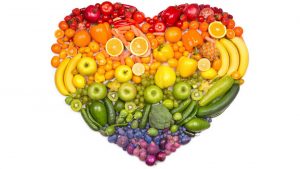 For Saturday lunch, like a mature adult, like a good grandmother, and because of my nutritional Jiminy Cricket, I plated healthy food for six-year-old Lawson and four-year old Brooke, here for a Maine weekend from their home near Boston.
I arranged scrumptious strawberries, purplish grapes, organic blueberries, raspberries, blackberries, cut-up cantaloupe and honeydew. Also, around the edges, I decorated as an artist would– since Lawson self-identifies as artist– with carrots, yellow and red peppers, light green celery, darker broccoli. 
I ta-daahed my platter, sashayed its loveliness to the goldenrod-hued table and said to my granddaughters, "Look! A kaleidoscope of colors. It's good to eat the rainbow every day, you know?"
Lawson paused, shook her head no, and said, "Actually, I like brown."
I chuckled. We chuckled together. I asked, "Ya? Like what?"
Her face widened, her voice lilted, "like chocolate milk, waffles,  pancakes, cookies."
I wondered, "When do brown cravings start?"
I recalled a 1950s Easter. The eternity of two days had passed in which my brother Mike had not yet eaten his chocolate bunny. I was maybe 11, he 4. How did he let that brown Russell Stover goodie sit so long in the fridge? I had devoured mine by Sunday noon. Tuesday I sneaked into Mike's, sucked off the two stuck-together ears. Wednesday I gnawed away the head. I also love brown. I get Lawson.
Browns in the 50s? Lunch: Skippy or Jif Peanut butter. Dinner: Hamburgers. Friday night: Fish sticks and French fries. Saturdays: B&M baked beans and brown bread. Dessert: Betty Crocker Double Chocolate Chunk Cookies; Friendly's coffee ice cream with Hershey's fudge sauce; Sarah Lee Brownies. I remembered but didn't tell Lawson. No need to add to this first grader's already I-like-brown.
That weekend Lawson and Brooke crawled through forts they built with sofa cushions. They designed, then hurdled over barriers in an obstacle course engineered from basement-dwelling, dust-gathering gym equipment. We frolicked and porpoised up and down in an indoor pool. They poured brown snacks (sesame sticks and cashews) for Molly and Kirsten, their mom's American Girl dolls. We cuddled to cheer the Celtics on TV. Lawson tried to teach Brooke to twist a fidget-spinner around her too-tiny fingers. We giggled over made-up knock-knock jokes. I played "ice cream shop customer," ordered pretend soft-serve, and paid with marbles. At bedtime, we curled up as they listened to me read Love You Forever, with its refrain, "I'll love you forever. I'll like you for always….."
I cry with that book, with what its jacket notes as "the enduring nature of parents' love and how it crosses generations." I never had dry eyes with my own children and didn't with my daughter's daughters. The message of never-fading compassion seems poignant–no, crucial– now. Care-full ideas. Kind-full themes. Tears came. Brooke and Lawson stared, "Crying? This is about love!"
I said, "Love is WHY I'm crying."
They squinched their eyebrows and said, "Now can we have those Junior Mints you hid?"
What a weekend. Active. Jumpy. Creative. Full of sweetness, laughs and energy infused with joy and bright eyes.
For dinner I cut new fruit and veggie shapes, plated a spiffy pattern and said, "here you go, luscious colors, today's rainbow."
Brooke scrunched her nose. Lawson sparked her sly smile, "I'm having a brown day."
Oh my. So fun.
I'll love them forever. I'll like them for always….