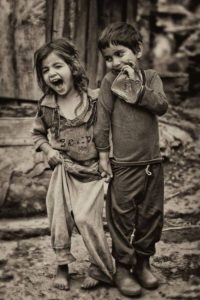 Frank Ostaseski, co-founder of Zen Hospice Project, blogs:  "I've been missing my granddaughter. She is such a good teacher for me about innocence."
Me too. I miss my grandkids. So today, the day before my twin grandsons' 7th birthday, I called to Face- time with all four siblings. I reached out for their happy chaos and for their guaranteed show and tell.  Lawson, the 5-year -old, appeared first. She had been scissoring into paper on the fold so that, when opened,  a perfect square revealed itself (or whatever shape appears with an exact mirror image side to side).  She held up a cut-up white sheet, "Susu, look it's a diamond."  Then she blurred the whole screen with another, a teeny one on a tiny piece of paper, more like a circle. "I have lots of them. Do you want to learn how to make these? I can show you."
I remembered taking napkins from my mother's kitchen drawer, right before dinner as I recall, and creating pattern after pattern like this. I remembered the delight in the surprise, discovering what would pop as I unveiled the fullness of the form. At age five, I thought I had invented this nifty skill, proud to be so artistic. And I wondered yesterday, how do we lose our early sense of inborn genius?  How do we forget what the Buddhists call the beauty of our own true nature?
Brooke,  2 1/2 years-old, stepped into Face-time next. She crawled onto the breakfast table, shot me a sly, shy yet radiant grin, and announced, "It's my birfday." She knew it was a joke. We giggled. Our gaiety reminded me how  spiritual teachers pose questions like, "When did you stop smiling?  When did you stop laughing? When did you stop feeling joy?" Many of us spend lots of adult years on yoga mats intending to regain that innate radiance. We raise our arms inhaling to gather huge Sunbreaths and then exhale to shine Light. We fill ourselves to radiate life force to all our cells.  We practice coming home to the inner brilliance we knew at  2 1/2.
Walker, one of the 6-year-olds-until-tomorrow, then displayed a hand-sized paper rocket.  "It flies, Susu. Really. I'm not kidding. "
I dropped into that moment with him, let go for a short time of planning mind, and busy-brain problem-solver. No questions. Nothing to figure out. Walker and I shared a glimpse of pure presence, a space of refuge with no place to go just then, nothing to do, nothing to fix. Indeed children are teachers.
Then Taylor, the other twin: "Susu, if you've lost anything, you should call me because I'm a really great finder."
"WOW!" I said.  "Please come here and help me."
Taylor beamed. "I can. Someone lost something and I found it. I didn't use my eyes or my ears. Nothing. I just knew where it was and I went and got it."
"How did you know?"
" I just did. I told you. I'm good at that."
No false bravado. No shame in claiming his triumph.  How do we later grow into dishonoring ourselves? And how do we then return to our natural simplicity?
Frank Ostaseski ends his blog: "Suppose we saw innocence not only as naiveté or being without guilt but as freshness, as impressionability…. vital alive qualities that we need to invite, allow and sustain our life and spiritual practice."
Yes, imagine.  Suppose.  What if….