Presented by the Falmouth Community Wellness Committee and Guided by Susan Lebel Young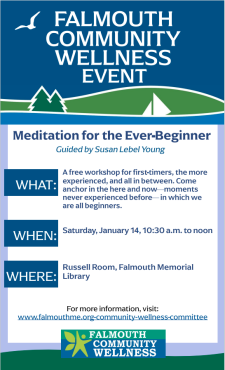 Have you tried meditation once, but it didn't work? Maybe you want to start practicing again or take a refresher class? Perhaps you meditate regularly, and would welcome an opportunity to join with others.
Whatever your motivation, you're invited to this workshop on January 14 from 10:30am to noon at the Falmouth Memorial Library Russel Room. The Workshop will be led by Susan Lebel Young, MSED, MSC, who has practiced and taught meditation for 40 years. Susan will talk a little, lead practice a little and leave plenty of time to answer questions.
"Lots of us think meditation is about clearing the mind, which seems impossible, so we don't want to try, even though we've heard it can help alleviate stress. No worries. There is nothing wrong with you. Meditation is not what you think. I love sharing these teachings. Come however you show up, agitated mind and all." —Susan