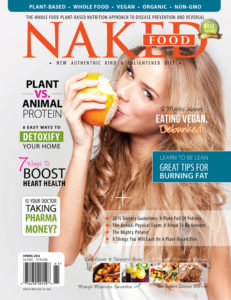 HERE IS MY LATEST Q and A CONTRIBUTION TO THE YUMMY NAKED FOOD MAGAZINE (New Authentic, Kind, Enlightened Diet)
Q: Last night I went to a vegetarian restaurant. One friend had guacamole and corn chips: I worried about the salt and oil. Another friend ordered rice and mixed veggies: it seemed to me there was no protein. How do we choose what to eat without obsessing about every detail?
A:Ah, yes, the mental looping of the same questions over and over. We all do that from time to time, maybe more so when we first start this whole foods, plant-based journey.  Those questions–and they are normal at first— can keep us stuck for awhile. Do you remember the song by Bob Seger, "The Answer's in the Question." Low fat, whole foods, plant-based eating lets us eat without obsessing. Congratulate yourself for already knowing that answer. When we ask questions about this ingredient (oil) or that nutrient (protein), our energy contracts, we close down on the details. We reduce our decisions to parts of the food. This is called reductionism, the opposite of whole. Kind and enlightened eating invites us to ask bigger questions. Is it a plant? Did it grow? Is it in its natural state? Our energy then expands into the spaciousness of eating as if from the Garden of Eden. Speaking of the Garden of Eden, remember from Genesis 1:29, "Look! I have given you every seed-bearing plant throughout the earth and all the fruit trees for your food"? A key word here is "Look!" Obsessing narrows our vision, squints our eyes. Open your attention. Look up instead, look out at the expansive fields, see the rainbow of colors in fruits and vegetables. Think "every plant." Look "throughout the Earth." Ask Nature what to eat and then choose.
————————
Q: I want to eat a low-fat, plant-based diet but sometimes I crave the old junk food I used to love. What should I do?

A: The question of craving is big and universal. "Wanting a Food Fix" is part of the cycle of desire and "I-want-it-I-gotta-have-it-now and-get-outa-my way." There are lots of ways to intervene with that frenzy in our heads, that drive in our bodies, those whipped-up emotions. The good news is that the more you eat real, actual grown-from-the-ground food, the less the body-mind will ask for junk, because your whole being will be nourished as nature intends. So, as much as you can, load up on colorful fruits and veggies. When the Cookie Monster shows up, there are many things you can do. One is to STOP, take a breath, call a plant-based pal, run up and down stairs or check e-mail. For five or ten minutes, put space between your craving and what you might eventually do. Create some distance for yourself. I call it Food-Fix-On-Hold. In that pause, ask yourself, "What is my real hunger here?" It might be sweetness in your life. It might be a rest. It might be human connection. Physical food cannot satisfy non-physical hungers. Trust what you hear and see if you can nourish yourself in fuller way. One more thing: since the question of craving is normal, a common phenomenon, treat yourself with enlightened kindness.