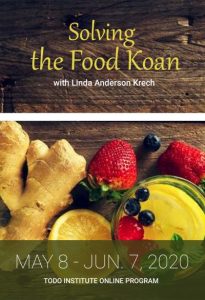 I am so excited to be helping in this program!
Solving the Food Koan
May 8 – June 7, 2020
with Linda Anderson Krech
PLEASE JOIN US for the launch of our newest program, Solving the Food Koan!
Let's put our heads and hearts together to think freshly about what we eat and how we eat.  For one month, we will explore the world of food in relation to our lives.  How do we make good food choices that support our health?  How do we eat well, given endless temptations, stressful lives, busy days, and long-standing habits?  And what does eating well look like?  During the month you will: STUDY material that will inspire, inform and empower you to make purposeful food choices that support your health and wellbeing;
EXPERIMENT with your eating habits, using the principles of Japanese Psychology, one bite at a time;
CONNECT with others from around the world as we share successes, struggles, recipes, songs, and our love of food with each other.
Whether you are trying to lose weight, become more healthy, or just expand your awareness, we'd love to have you join us for the launch of Solving the Food Koan! The program will be conducted by Linda Anderson Krech, with assistance from Stephanie Beling, M.D., author of "Power Foods" and Susan Lebel Young, author of "Food Fix".
REGISTER HERE for the program.
Thank you!