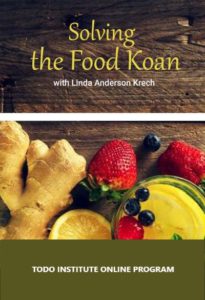 I will be helping to facilitate this group.  Last year was pretty amazing.
May 20 – June 19, 2021
led by Linda Anderson Krech
with assistance from Stephanie Beling, M.D. and Susan Young
PLEASE JOIN US as we work on Solving the Food Koan together.If you want to develop a more purposeful way of eating, one that supports your health in a more vibrant and satisfying way, please join us for this month-long exploration of food.
30-day program
24/7 access 
Go at your own pace
Daily experiential practice
Diverse online resources
Camaraderie of a global community
Food is one of our most basic common denominators.  We all make decisions about food every day of our lives.  We all answer the same questions:  what should I eat, when should I eat, how much should I eat.  These questions are woven into the fabric of our lives.  One way or another, either impulsively or deliberately, we answer these questions every day.
And these questions form a koan for many of us — not a koan that is passed on from zen teacher to student, but a life koan that arises spontaneously and naturally from the very real circumstances of our lives. Koans are riddles or puzzles that cannot be solved logically or directly. They are solved by wrestling with them in creative ways, by looking for open windows and back doors that may allow entry or shed some new light . . .
In this program we will explore a wide spectrum of issues that will help us look freshly at food. We will come at it from all directions and tease it apart, we'll step back for perspective and move in for focus. And hopefully, through our efforts, we'll unravel some important truths about the world and about ourselves in the process.
We'd love to have you join us.
REGISTER HERE
Please contact Linda to receive your 50% alumni discount if you took this course last year. The alumni option is not currently available on our registration form. Sorry for the inconvenience.