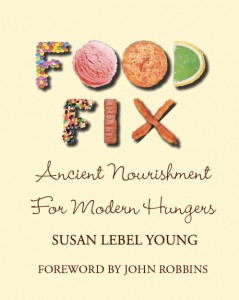 What Really Feeds You?
Tuesdays from 10:00-11:30 beginning on January 23
, at Falmouth Memorial 
Library
Do you make New Year's Resolutions about eating better or losing weight?  How long do these resolutions last? After your resolution inevitably fails, do you think, "What is wrong with me?"  What Really Feeds You will help you awaken your heart to a new approach

of being in and being with the body

that is simple, not

necessarily 

easy. 
Join Sue Young in this insightful 10-week workshop into the thoughts, emotions, and actions you might need to address in order to create a more permanent FOOD FIX.  This is not a diet, but rather a thoughtful way to leave behind the self-judgement and lead you to a world of vibrancy and health.  Young's book, Food Fix, will provide the backbone for the weekly sessions that will consist of readings, discussion, action steps, and practice. 
To help the library in their fundraising efforts, Young is offering FOOD FIX for sale for $20.00, all of which will benefit the Library's Capital Campaign.  If you purchase your book prior to December 31, the cost will be matched to become an $80 donation to the Campaign.  You may purchase the book at the Library or through Young's website, www.heartnourishment.com.