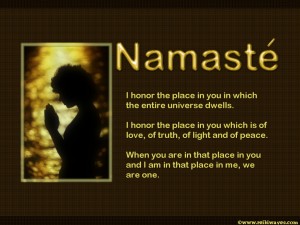 "Gradually something tiny will begin to change. If you keep coming back to feeling your feet on the ground under you, you'll notice. Come into right now. Rest here."
I had no idea what these soft words of my first yoga teacher meant. During my first pregnancy I had signed up for "Yoga for Pregnant Women" because a wiser friend had said, "A Type A person like you should try a gentle yoga class to help you breeze through labor and delivery."
I didn't hear the ease. I heard the goal. As a runner, I related only to the physical conditioning in this ancient tradition. My self-talk sounded like a charged-up coach, "Go get 'em, girl. You can do this yoga. You can conquer having a baby."
In that class, as the teacher almost whispered, "Loosen the jaw, broaden the space between the eyes," I gritted, clenched and fell over from stiffening up in a balancing pose.
She added, "This is the end of practice. Lie down. Let's learn to be alert and let go of muscular tension at the same time. Sharp mind. Relaxed body." I fell asleep.
As if keeping score, each week I returned to class intending to achieve an "A". When I couldn't follow the quiet guidance, I tried harder. "Try easy," she said. "Try less. Over time, you'll understand."  For years I didn't, couldn't understand, mind too jumpy, hindered by a twitchy body.
I pushed toward mastery, "I can nail this yoga in 8 weeks." I tested myself, "Come on, whip yourself into the perfect combination of postures and breathwork to make yours the best delivery ever." I competed to be the most stretchy and grunted through class. I ended each one snoring.
After my daughter came into the world so fast that I had no time to breathe at all, I committed to another 8-week yoga class, planning to fly like a gymnast from one pose to the next and with a new jaw-tensing goal: "I will not snooze."
A poet taught this beginner's class. With her lyrical language, into maybe the fifth session, I could drop the focus out of my busy head and land in my calmer core. I started to be able to listen to my body rather than talking it into shape and shapes. After weeks of the poet's sweet guidance, I would open the door to the gym where she taught, and feel a full-body, "Ahhhh."  Merely entering induced peace. Walk in, take off shoes, find a place, roll out the mat, sit. Arrive. Settle into center. Ahhh.
Not in an aha moment, but after years of dedicated showing up, I sensed the pulse of my heartbeat, the animating Life Force, the poet called it. I felt the fullness of the inhale: "spirit filling us." The way she invited us to "find our breath" taught me to listen for that Life Force within. I knew I would never master yoga, that mastery was not the point, and that maybe the point was more like a big Life Force letting-go Ahhhhhhh.
Thus I began the study of yoga. Over and over, I rolled out my blue sticky mat on that wooden gym floor and at home in the corner of my bedroom. After months, my carpet began to shred at the same rectangular spot where I practiced every day. In that one place in class and then off the mat, I released the clench of "I-gotta-be-Gumby, I gotta be the best breather."
Alone or in class, most yoga practices end with a simple hands-to-the-heart bowing gesture and the word "Namaste," translated from the Sanskrit in many ways: "The Divine in me honors the Divine in you;" "My Divine Spark sees your Divine Spark," "The God in me greets the God in you." Once I realized that yoga was about waking up to the best in me, not only did I stop dozing off, but the best in me started to seep into life moments off the mat. I smiled more. I judged less. I tried easier. I stopped competing. I let go of go-for-the-burn-yoga-as-proving-ground. I let the Animating Divine Life Force lead. Ahhhhh.
For decades I have rolled my worn-out yoga mat onto my worn-out rug. After thousands of repetitions, the humble act of Namaste transforms me every time I make that bow.
When we stay, when we give up rushing from here to there, when we soften into the lessons right in front us, we grow from those grounded roots. As Nelson Mandel said,
"There is nothing like returning to a place that remains unchanged to find the ways in which you yourself have altered."