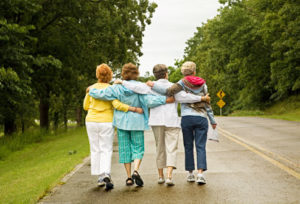 My cousin e-mails me, "Did you hear that Karen (my age) fell while running, hit her head and is in critical care. Ugh. How can that happen to someone that fit?"
I agree with "ugh." I know the shock of how-can-that-happen.
A friend texts to say her husband (ten years younger than me) is regaining strength after open heart surgery, although not sleeping nights so napping all day. She has a cold which complicates her caregiving and she has to wear masks and gloves. She ends, "I'm exhausted; hanging in there."
Hanging in there is what we do, right? For years. For the life we are given.
Weeks ago a childhood camp pal received a diagnosis of "an aggressive leukemia." An ex-neighbor last week had a stroke and can no longer read. I am at "that age" when I know that if we're lucky, we grow old. If we're .human, we get sick and die. That's a big UGH.
Forty-two years ago I promised: "In sickness and in health, 'til death do us part." I had no idea at age 26 what those words meant, that one of us will someday care for the ailing other. We agreed, too, that one of us will see the other one out. I know the truth of this inevitability; I vowed to be with it. But old age and sickness is hard on the heart, even if the head understands its fierce reality. An open heart is good, of course, and it aches because a part of me dies with every loss. Floods of sadness can feel like drowning.
I don't accuse, "Why me" or "Why her and not me?" But because grief is turbulent and my heart has been broken a few times in almost 70 years, I find myself hoping things could be different from how they are, and imagining re-makes of the past. I should've said YES when a writing partner invited me to a Sedona retreat before she died of a heart attack. If only I'd gone to Bates College to care for my aging grandparents in Lewiston in their last days, I could've helped them. Why did I give up skiing years before my arthritic tin-man joints now dictate it?.
With old life re-dos, I also sometimes make up fantasies of an impossible future–for me, for us, for this world– because feeling the fear of its uncertainty isn't fun either.
But there is transformation in a feeling life. All of it. My teachers tell me we are called to live, to continue living, as fully as possible, cracks in the heart and all. Fractured yet whole, embracing the reality of here and now and leaving the unreality of there and then, the illusion of perfect enduring health for me, you, them, and us. Because if a heart closes to pain, to frailty, to dis-ease, it closes. Joy and laughter stifle too. There is no picking and choosing.
If I had shut out Karen's fall, the ex-neighbor's stroke, my rickety joints, I would have missed my two-year-old granddaughter as she dragged my carry-on bag around her kitchen and sang in her lilting voice, "Susu, I hab your soupcase."
Today carrying my human soupcase packed with joys and sorrows, laughter and tears, I call a friend whose son just deployed for the third time. There is no fixing this life; nothing I say will vanish her worry. I ask if she wants to go for a stroll. She says, "Yes. Thanks. It's lonelier this time. We can keep my sadness company."
That's it, isn't it? That's what this mixed-up life is all about, helping each other with the loads we are asked to hold; the break-ups, the illnesses, the deaths, our chaos and conflicts.  Maybe all we can do is be with, share sadness and loneliness, hang in there with our soupcases full of past memories, present challenges, future unknowns and the UGHs we meet. Perhaps we are asked, in our limited time on Earth, to keep our porous hearts open as we look deeply at life and death, to live with more yesses and thank yous, to lean into what really matters as we walk each other home.