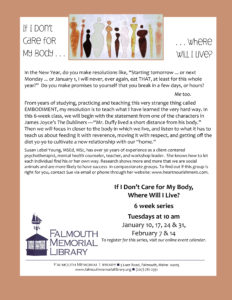 In the New Year, do you make resolutions like, "Starting tomorrow … or next Monday … or January 1, I will never, ever again, eat THAT, at least for this whole year?" Do you make promises to yourself that you break in a few days, or hours?
Me too.
From years of studying, practicing and teaching this very strange thing called EMBODIMENT, my resolution is to teach what I have learned the very hard way. In this 6-week class, we will begin with the statement from one of the characters in James Joyce's The Dubliners —"Mr. Du y lived a short distance from his body." Then we will focus in closer to the body in which we live, and listen to what it has to teach us about feeding it with reverence, moving it with respect, and getting o the diet yo-yo to cultivate a new relationship with our "home."
Susan Lebel Young, MSEd, MSc, has over 30 years of experience as a client-centered psychotherapist, mental health counselor, teacher, and workshop leader. She knows how to let each individual nd his or her own way. Research shows more and more that we are social animals and are more likely to have success in compassionate groups. To nd out if this group is right for you, contact Sue via email or phone through her website: www.heartnourishment.com.